Description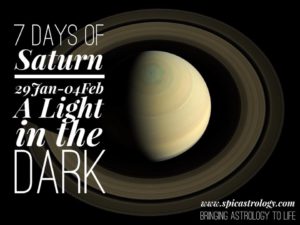 Saturn has a bad reputation in the world of Astrology. I think it is time we change that. In my research and work with clients, I have not seen an energy more considerate and inexorable in its quest to challenge an individual to own their Sun's light and purpose in this lifetime as the Saturn energy. This series of lecture videos present unique and practical insights into the nature of Saturn. The aim of these videos is to provide meaningful pointers to clients, astrology enthusiasts, and astrologers to facilitate a healthier relationship and alignment with the Saturn archetype in our life.
They explore the connections and lessons of Saturn which impact various areas of your life – physical and spiritual, past and future, psychological and practical – and moreover, provides strategies for transforming your relationship to Saturn energy from one of fear and inhibition, to one of respect and love.
Reconnect and realign with Saturn, the Light in the Dark.
Purchase consists of over 8 hours of Insight videos by astrologer Tahran Read on the following topics:
Saturn, Uranus and Aquarius
Saturn and the Sun
Saturn and the Moon
Secret Key to Saturn in the Signs
Saturn in the Fire Signs
Saturn in the Earth Signs
Saturn in the Air Signs
Saturn in the Water Signs
Saturn and Sect
Saturn and Modality
Saturn in Aspect
Saturn and Essential Dignity
Saturn and Angularity
Vedic Chant for Saturn Alignment
Yoga: Saturn and the Breath