Description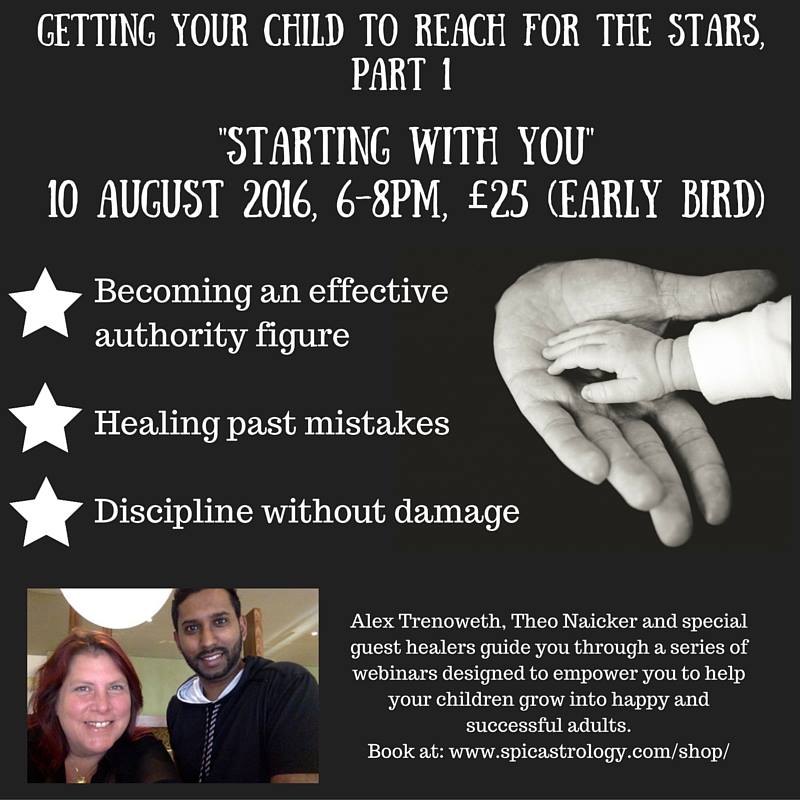 PART 1 OF 3 of the BACK TO SCHOOL webinar series for August 2016
How does your child learn?
This is a question many parents and teachers struggle with and very often get completely wrong even after a lot of trial and error. However, astrology can reveal some surprising shortcuts to finding the key to your child's motivation and, with your help, can get them reaching for the stars in no time.
But it all starts with discovering your skills and abilities as an authority figure and healing past mistakes so you feel empowered to discipline without damaging.
Just in time for September, "Growing Pains" author Alex Trenoweth, secondary school teacher and astrologer leads on this very special back-to-school webinar. As a pioneer in the field of astrology and education, Alex's ground-breaking research led to her being awarded "Best International Astrologer of the Year, 2015".
This webinar features an interactive presentation, working examples and a cleverly designed workbook to help you empower your child through a better understanding of your self.
WHAT YOUR PURCHASE INCLUDES: A full recording of the webinar, plus the downloadable content: Saturn Cheat-Sheet to help you understand your child's learning needs, a Workbook with case studies and reflection points, access to post-webinar special offers, and free 1 hour followup session.
Tahran Read, DMA., DAS., is a qualified petroleum reservoir engineer, certified professional astrologer, owner of Spica Astrology, and specializes in Eastern and Western techniques. His aim is to bring practical astrology to people in a thriving holistic community. www.spicastrology.com
Alex Trenoweth, BA, MA, DFAstrolS, is a professional teacher and astrologer who was awarded "Best International Astrologer, 2015". She is the author of "Growing Pains", a book about astrology and education. www.alextrenoweth.com
Michelle Vooght – Healer, Guide and Medium – Facilitates Divine Guidance Sessions, Archangel Therapy Sessions, Spiritual Healing and Coaching, Teachings and Reiki. Trained in various healing modalities, such as Reiki, the Ayurvedic Healing System, Crystal work and various massage therapies, Michelle has more than 15 years experience in the energy healing field. She works closely with Divine Beings to facilitate spiritual healing and coaching. She also teaches the modality of Reiki and Psychic Mentoring, empowering others to live and work with Divine Guidance and Beings in their day to day life. www.michellevooght.com