Description
Webinar sessions, where we discuss various topics of interest in Astrology, often with many chart examples. Suitable for amateurs and professional astrologers alike, these webinars are an opportunity to see real Astrology in action. Maximum 20 attendees per session. Priced per product.
This webinar is Part 1 o 2 of the Work & Health webinar set for September 2016.
An existential fact of life is that we negotiate our will through each day. The present contains the intent of our destiny. We negotiate with the will not only with the will of our body and mind, but also that of others. Living without awareness of how our will is placed and operating creates misunderstanding, restlessness, and stress. The most important of these is our awareness of our bodies and our relationship to it. In this webinar, we will go into both physical and spiritual issues indicated by the signs, houses, and planets. A problem of life and health issue that may be represented by a planet in your chart is a specific sign and house, and we will go into the details of what each of this means physically and spiritually. This is a talk which looks at astrology, lifestyle, and health with the understanding that our relationship with our body is both physical but also deeply spiritual. You will look at health and stress in an entirely different way, and more importantly, in a way that is specific to you based on your astrological birth chart. This webinar is a must for people who are aspiring to live in harmony between body and spirit, for those who are looking to understand the underlying issues related to health and stress. It will definitely also give practicing astrologers food for thought, and helpful, practical advice for medical consultations.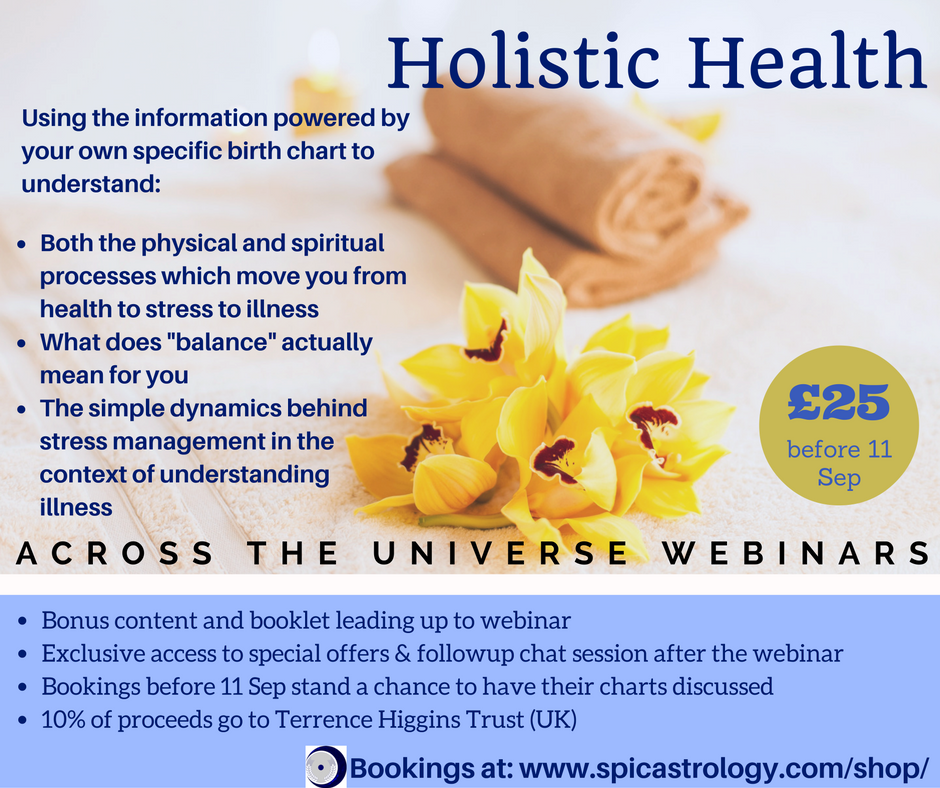 WHAT YOUR PURCHASE INCLUDES
A full recording of the webinar, plus the downloadable content: Key Concepts Workbook with case studies and reflection points, access to post-webinar special offers, and free 1 hour followup session. The Key Concepts and Workbook are emailed out a within a week before the webinar.
Tahran Read, DMA., DAS., is a qualified petroleum reservoir engineer, certified professional astrologer, owner of Spica Astrology, and specializes in Eastern and Western techniques. His aim is to bring practical astrology to people in a thriving holistic community. www.spicastrology.com
Alex Trenoweth, BA, MA, DFAstrolS, is a professional teacher and astrologer who was awarded "Best International Astrologer, 2015". She is the author of "Growing Pains", a book about astrology and education. www.alextrenoweth.com
Michelle Vooght – Healer, Guide and Medium – Facilitates Divine Guidance Sessions, Archangel Therapy Sessions, Spiritual Healing and Coaching, Teachings and Reiki. Trained in various healing modalities, such as Reiki, the Ayurvedic Healing System, Crystal work and various massage therapies, Michelle has more than 15 years experience in the energy healing field. She works closely with Divine Beings to facilitate spiritual healing and coaching. She also teaches the modality of Reiki and Psychic Mentoring, empowering others to live and work with Divine Guidance and Beings in their day to day life. www.michellevooght.com